Elon Musk and Tesla have taken a leap forward in driving the auto industry towards a more sustainable, electric future. On March 21st, 2016 the new Tesla 3 was unveiled to an astounding amount of hype and fanfare in Los Angeles. It is the third model from the Palo Alto based electric vehicle company, following the Model X and Model S, however, it is poised to radically alter the car industry around the world in ways that its predecessors where unable to.
For all of the innovations that the Model 3 promises to deliver, its most important feature comes down something very old school: price. The car will retail for $35,000, which will put it in direct competition with the mid priced luxury car sector, taking on established players like the BMW 3 series, Mercedes Benz C class, and the Audi A4. For the first time a luxury, electric vehicle will be affordable to a large amount of the car buying public.
The $35,000 base price will probably end up being closer to a $38,000-$45,000 price range if you spring for upgraded options, like all wheel drive, or a larger battery life. It's worth remembering that most states offer tax credits that can bring down that price, sometimes considerably. Although some in the car industry expressed doubts about whether the Tesla 3 could possibly live up to the hype, car buyers responded very enthusiastically. Within a week, Tesla had received over 325,000 pre orders with a $1,000 reservation fee. This translates into $14 Billion dollars of possible future sales, making it the single biggest product launch ever. The fact that the car will not even be available until the end of 2017 makes this all the more impressive.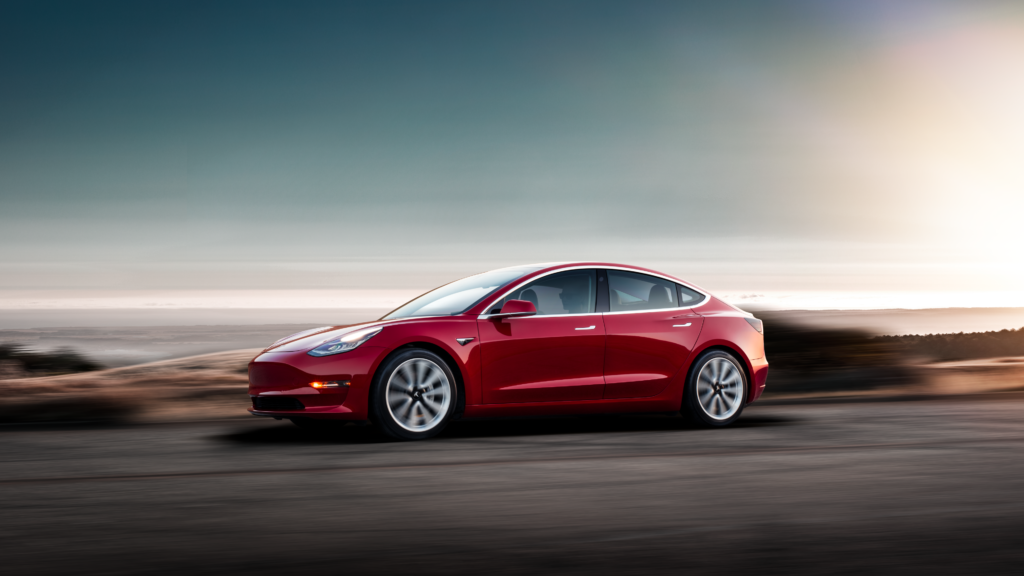 There is no denying that the Tesla 3 is an absolutely gorgeous car, the lines evoke a futuristic feeling, while maintaining the aesthetic sensibility of a luxury sedan. The doors are sleek and flow into a back that is very similar to the model S, while the front brings to mind an aggressive roadster. The true achievement, from a looks perspective, is the beautifully actualized panoramic roof. The solid piece of glass makes the sedan instantly recognizable, as well as providing an extraordinary view for the 5 occupants it seats. The interior achieves a more minimalist feel; with a 15'' touchscreen displaying what would normally be in the instrument cluster. There are rumors that there will be a lot more tech options integrated into the car once it goes into production. The car will also utilize an Autopilot mode and autonomous features that will seek to achieve a safer vehicle.
Range may be the single biggest factor that is holding back the widespread adoption of electric vehicles, although Musk and the Tesla team have sought to sort out many of these concerns. The Model 3 will achieve zero to 60mph in less than 6 seconds, with rumors of faster versions being available for sale at a later date. The base model will include a less than 60kWh battery with a 215-mile radius, although it seems probable that a larger battery will be an upgrade option. The company has promised that their Supercharging stations around the country will be available for drivers at no charge; these can charge an electric vehicle in minutes rather than hours. Theoretically this would allow an owner to drive their Tesla Model 3 across the country as long they plan the trip along these strategically placed charging stations.
It remains to be seen whether this vehicle will be the tipping point for electronic vehicles as many claim; it's also clear that Tesla is taking a huge risk and a flop could be catastrophic. However there is no denying that there is tremendous desire by the population to move our transportation networks in a sustainable direction. We want environmentally friendly vehicles, but without sacrificing the affordable luxury and comforts that we've grown accustomed to. No one seems to be pining to travel around in a bus powered by vegetable oil. Elon Musk sees a world where we don't have to make these trade offs, that we can travel in a vehicle that is better for the world that we inhabit, but above all else, is simply sexy.